Sacred Geometry bulletin for September 2012:
(1) News, Events, Interviews, Workshops, Classes, Exhibits, Products, Articles, Tutorials
(2) Websites, Books, Videos, Imagery, Music and Quotes
Colleague Michael Schneider has a new, lavishly illustrated and animated DVD: Constructing The Universe: A Journey From 1 to 12 which I just watched in its entirety… brilliant, yet very easy to follow and clearly explained, beginning at the bare basics and culminating in compelling cosmologies. Each of the first 12 counting numbers receives a first class tour through realms mundane to mystical, deepening our appreciation of numbers and their geometric interconnections from many disciplines, traditions, and perspectives. I always learn something new and interesting from his work. I highly recommend it!
I also frequently recommend his classic book A Beginner's Guide to Constructing the Universe: Mathematical Archetypes of Nature, Art, and Science as an excellent companion (with complementary approaches) to SGDS for those new to the study and exploration of sacred or mystical geometry.
Here's an example photo taken from our TV screen (the actual image quality is MUCH better) showing how nested circles defined by a dodecagram and an equilateral triangle compose the geometry of the classic labyrinth at Chartres Cathedral.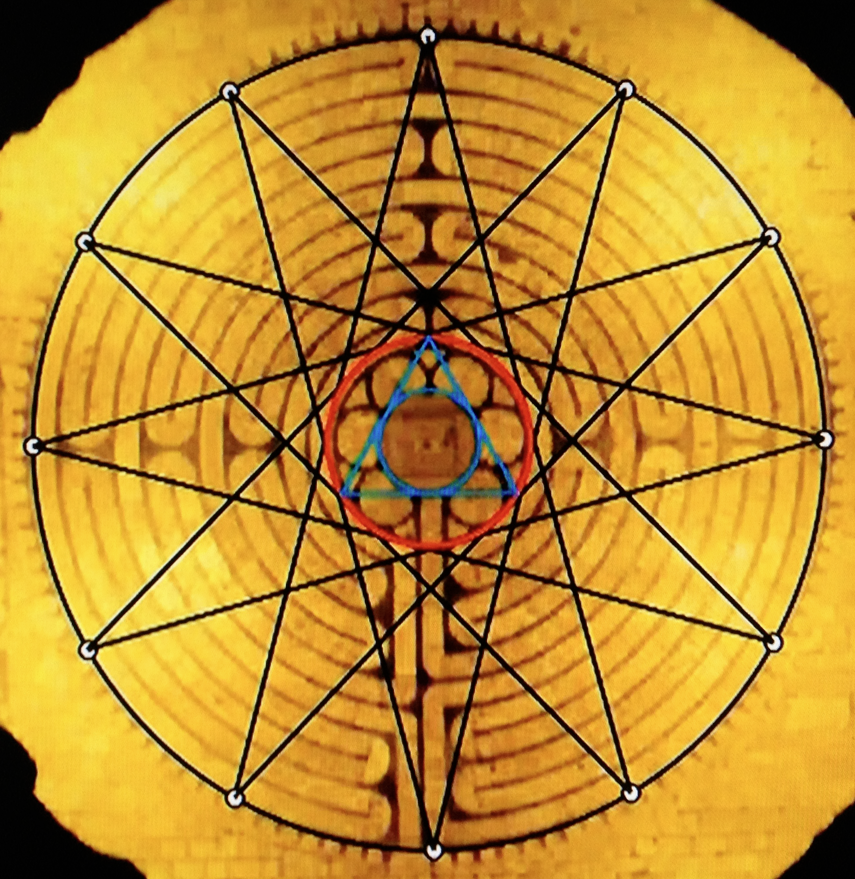 (3) Request for Submissions
If you would like to stay connected and network with kindred souls online, check out my pages on
Facebook
,
YouTube
,
Twitter
Pinterest
and
LinkedIn
.
I'm enjoying connecting with both recent and long-time friends and colleagues and discovering new friends of friends

As always, please let me know how I might support you. Please
send me any interesting items
about
sacred geometry
or related interests … since everything is inter-related!
Thanks for your interest &
support
!

BTW, I always appreciate enthusiastic reviews on the
Amazon SGDS book page
, and the
newer Amazon book page for The Geometry Code
. It's a good "win-win" way to cross-promote your work as well.
Bruce Rawles
PO Box 192, Castle Rock, Colorado 80104
co-author of
The Geometry Code
screensaver
author of
Sacred Geometry Design Sourcebook
Free monthly email bulletin on sacred geometry and related subjects
Please join me on
Facebook
and
LinkedIn
.
You might also enjoy
my blog
which has lots of other fun and info in addition to these bulletins.