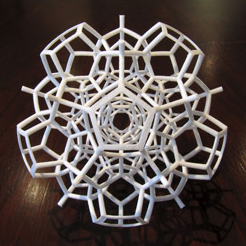 I received a general question via email from a visitor to GeometryCode.com interested in beading 3-dimensional shapes. Here are the results of my explorations in the process of very quickly researching this question, and my response:
---
Since your original question was about beading – although many of these may not have geometric aspects of interest – here are some example of 3D beading quite a few example videos of 3D beading that might be helpful.
Since a new dimension is being added (with infinite variations on what can be added to go from 2D to 3D) there are numerous ways to make a 3D pattern from a 2D pattern; these include:
extruding (translation of ) a 2D shape: just making identical copies of the 2D pattern stacked atop each other
rotation or reflection of a 2D shape around either the X or Y (or another axis in the plane of the 2D image)
using other symmetry or symmetries within the 2D object(s) to replicate aspects into the z-axis
countless other variations …
If you already have a 3D image in mind (such as you will find in Sacred Geometry Design Sourcebook on pages 189 (Great Pyramid fold-up model) or Platonic and Archimedean Solids, variations, etc. 196-229 or (space filling polyhedra and close-packing of spheres on page 239, for example) you already have a 3-dimensional pattern to start with. If you have a specific media (such as beading, stained glass, wood-working, welding, Zometool, 3D printing, magnetic spheres, or countless other media variations), you will have other constraints and opportunities to explore. In order to assist further, I would need to know which image on which page in SGDS – since there are over 1300 images in the book! – you have in mind to use for your 3D design.
If you want to make a prototype (or multiple identical copies) you might want to explore 3D printing. There are now somewhat affordable 3D printers, and lots of local 3D printing services. Here's an example (the "Half of a 120-cell" image on this page) of a 3D-printed geometric shape with kudos to Henry Segerman and Saul Schleimer. Be sure to watch the videos in addition to on this page about the associated images, such as Quintessence (which evidently is also a 3D/4D puzzle/toy which looks wonderful), Triple helix, and Triple gear; fascinating! … and don't forget to check out the 3D art of Bathsheba who has some exquisite 3D geometric art. 🙂