Hi all! Here's the Sacred Geometry bulletin for October-November 2010:
==================================================================
1) Events: Interviews, Seminars, Workshops, Classes, Exhibits
2) New Products, Articles, Tutorials
3) Recent Introductions
4) Website(s) of Interest
5) Books, Movies and Music of Interest
6) Affiliate(s) of the Month
7) Quote(s) of the Month
8) Image(s) of the Month
9) Annual Multimedia Contest!
10) Request for Submissions

==================================================================
Hi all:
Between a new full-time job, moving (across town here in Ashland, Oregon and happily settling in :-) this past couple of months have been a bit busy, so the 'new' info in this bulletin is the 25% Lulu promo discount (for almost 24 hours!), the 'show and tell' event here in Ashland this Thursday, a few new links, and a few quotes... Stay tuned for more updates when things settle a bit! Meanwhile, enjoy the inner warmth we all share from intrinsic interconnectedness ... (and a season that gives us an excuse to celebrate it! :-)

1) Events: Interviews, Seminars, Workshops, Classes, Exhibits
A lulu of a good deal

Here's another neat deal from my book printer Lulu... If you were planning to give a copy of Sacred Geometry Design Sourcebook as a present (even to yourself if you've loaned out your own copy! :-) anyway, here's a great opportunity to save on holiday shopping ... and the 'fine print' from Lulu:

Enter coupon code CYBER305 at checkout and receive 25% off any order. The maximum savings for this offer is $185. Sorry, but this offer is only valid in US dollars and cannot be applied to previous orders. You can only use this code once per account, and unfortunately you can't use this coupon in combination with other coupon codes. This great offer expires on November 30, 2010 at 11:59 PM EST, so don't miss out! While very unlikely, we do reserve the right to change or revoke this offer at anytime, and of course we cannot offer this coupon where it is against the law to do so. Please note: this discount is incurred by Lulu and does not impact an Author's proceeds of book sales.

Local Geeks Unite! (my intention is to promote non-local interconnectedness, though :-)

I'll be giving a short (less than 30 minute) presentation this Thursday evening (2Dec2010) at 6:30PM at 258 A Street in Ashland, Oregon for fellow SOGGY (Southern Oregon Geeks) folk on the (you guessed it!) amazingly accurate geometric models of the solar system beautifully illustrated by John Martineau in his Little Book of Coincidence (also featured in the 12 "Martineau Solar System Series" that I've been exhibiting around this part of the planet for the better part of a decade now. Here's the write up I submitted: A demo of some some remarkably accurate geometric models of the solar system using POV-Ray, an open-source ray-tracing graphics program (now MegaPOV) and PhotoShop; still imagery and a few other geometric animations. (some fun animations that are higher resolution than my YouTube channel currently has.) Hope you can make it! :-)

Interviews with Deborah Pietsch of Wake Up:Shift Is Happening
Here are 4 interviews Deborah Pietsch of Wake Up:Shift Is Happening did with me a year ago; we had fun talking about sacred geometry, the 7 Hermetic Laws, and a bit of pure non-dual metaphysics! Enjoy!
Part 1 – Part 2 – Part 3 – Part 4
I'm looking for another local (or regional) venue to exhibit of all 12 of my "Martineau Solar System Series" giclée prints (gallery, performing arts venue, cafe, bank, science museum, public business office, etc.) (since they don't look nearly as nice stored in the big cardboard box in my living room :-) Suggestions appreciated! :-)

I'm STILL continuing to work on the 2nd book; meanwhile if you haven't already, check out the 8-part article
series (links on my Events and Resources pages) which are moving closer and closer (thanks for your
patience!) to being fully expanded into the Geometry Code book. I'm focusing more time on this latest labor of love! :-)

If you are interested in sacred geometry workshops in the Ashland or Medford, Oregon area (or vicinity) please let me know! Here's my list of current and past events. If you have a local, regional (or global for that matter, as long as my expenses are covered) venue to suggest, please let me know!
==================================================================

2) New Products, Articles and Tutorials

I'm STILL continuing to work on the 'behind the scenes' foundational architecture for a brand new website... Stay tuned!
Meanwhile, not long ago I made a FaceBook page for GeometryCode.com (just do a search on "GeometryCodeCom".)
This new FaceBook page actually has a bit easier access to 4 main product categories (some of you might not have known I had that many! :-) ...

The Martineau Solar System Series...
Sacred Geometry Design Sourcebook (probably the most familiar to readers of this bulletin) ...
The Geometry Code - Meditation Tool, ScreenSaver, and eBooklet ... and
Sacred Geometry Video Patterns (Gradient Wipe Transitions for Final Cut Pro)

==================================================================

3) Recent Introductions ... (Even Still Fairly) New :-)

I recently introduced a new Twitter page for GeometryCode ...
and there's vast unexplored 'twee-territory' to explore! :-)

==================================================================

4) Website(s) of Interest

Here's a FaceBook page about Platonic Solids, and Penta-Pyramid Mandala animation site that has some
familiar and new imagery. Thanks to the folks who suggested the links! (you know who you are; my lazy excuse for not
digging through past emails to find out who sent them! :-)

Thanks (as always) to Ed Kellogg for sending a link to this interesting article:
"Fermilab is Building a 'Holometer' to Determine Once and For All Whether Reality Is Just an Illusion"
(science keeps trying to prove what mystics have been saying for millennia, but that's part of the fun! :-)

==================================================================

5) Books, Movies and Music of Interest

Here's a book that a new co-worker (thanks, Jamie – who I happily discovered is a fellow hyper-dimensional geometry buff) loaned me; wonderful 'karma' since I must have loaned out my copy a few decades ago ... Shapes, Space, and Symmetry by Alan Holden got me inspired in the 1970s to fill my ceiling with polyhedral models and I've never been the same since!
==================================================================

6) Affiliate(s) of the Month: Amazon.com

Amaz(on) has such an amaz(ing) assortment of books, videos and even geometry related toys
... such as ...
Zometool ... still (after many years) my favorite geometric 'toy' although it is so much more than that!
I use it to demonstrate 3D relationships that are difficult to convey any other way, as well as just plain fun!
==================================================================

7) Quote(s) of the Month

"Our birth is but a sleep and a forgetting." – Wordsworth
"You go so much backward when you fight." – William Shakespeare
"You are not just a drop in the ocean. You are the mighty ocean in a drop." – Rumi
"The world and the mind are states of being. The supreme is not a state. It pervades all states, but it is not a state of something else. It is entirely uncaused, independent, complete in itself, beyond time and space, mind and matter. ........There is nothing to recognise it by. It must be seen directly, by giving up all search for signs and approaches. When all names and forms have been given up, the real is with you. You need not seek it. Plurality and diversity are the play of the mind only. Reality is one."
– Nisargadatta
==================================================================

8) Image(s) of the Month

Here's a study on squaring the circle from Rod Holland...
I haven't done the math, but it's always fun to see how geometries tend to fit together, even if not exactly accurate mathematically...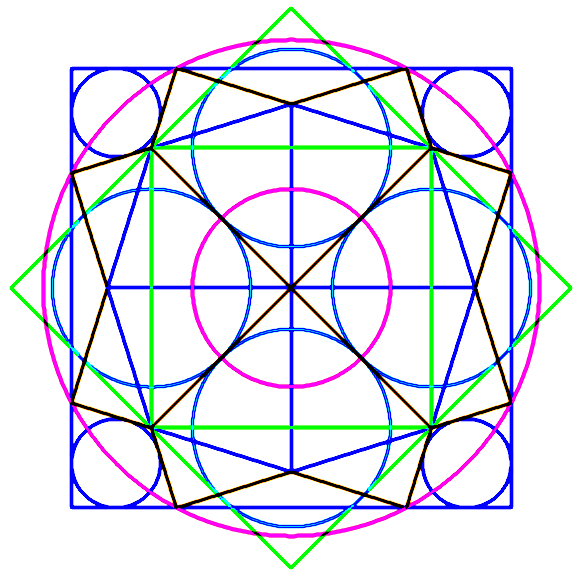 ==================================================================

9) 2010 (now annual) multimedia CONTEST!

I've decided to make the Sacred Geometry Multimedia Contest an annual event, so you NOW have
until Dec. 31, 2010 to send me entries (inspired by Sacred Geometry Design Sourcebook, or other
images or ideas on the site) to win a free GeometryCode screensaver and eBooklet!

==================================================================

10) Request for Submissions

If you would like to stay connected and network with kindred souls online, check out my pages on
Twitter, LinkedIn and FaceBook. I'm enjoying connecting with both recent and long-time friends and colleagues
and discovering new friends of friends (and soon friends of friends of friends... :-)

As always, please let me know how I can support you. Please send me any interesting items about
sacred geometry or related interests (since everything is interrelated!
Thanks for your interest & support! :-)

BTW, I always appreciate enthusiastic reviews on my Amazon SGDS book page, and it's a good
"win-win" way to cross-promote your work as well.
==================================================================
---------
Bruce Rawles
POB 431, Ashland, Oregon 97520
co-author of The Geometry Code screensaver
author of Sacred Geometry Design Sourcebook
Free monthly email bulletin on sacred geometry and related subjects
Our world travel gallery and more...
Please join me on FaceBook and LinkedIn!
---------

You might also enjoy Bruce's blog which has much other information not included in these bulletins.