Sacred Geometry bulletin for February-March 2012:
1) News, Events, Interviews, Workshops, Classes, Exhibits, Products, Articles, Tutorials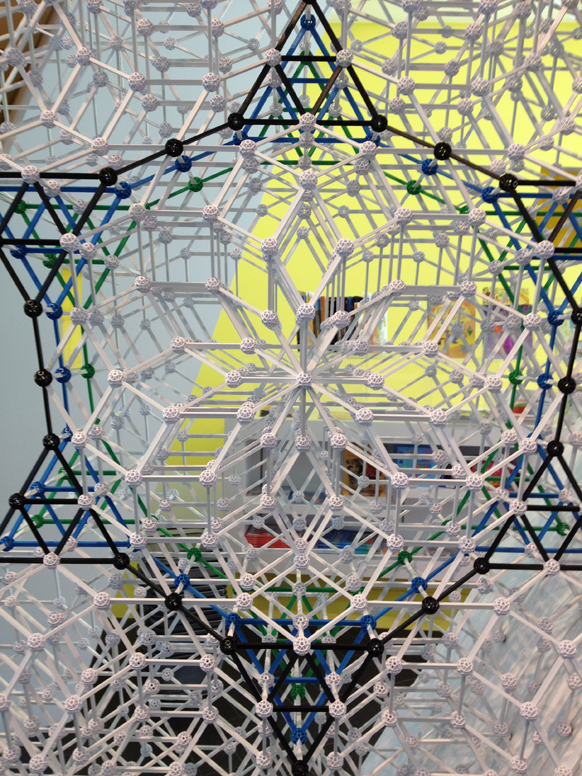 Zometool sculpture at Denver Art Museum
We finally made it back to the Denver Art Museum (which easily deserves a couple of days to see the neat collection there) and made a bee-line for the newly installed Zometool creation in the downstairs lobby next to the gift store.
I wrote most recently about this geometric sculpture in this earlier blog post. It was fun to see this splendid geometric model in person! 🙂 The photos above show the sculpture face on (upper photo), and edge-on (lower photo).
Zometool is a great complement to, and ideal model building system for the designs in Sacred Geometry Design Sourcebook.

Jeff Volk – Cymatics and water presentation
Jeff Volk of CymaticSource – carrying on the pioneering Cymatics work of Hans Jenny – will give a live presentation on Cymatics and water at The Peabody Essex Museum in Salem, Massachusetts on Earth Day, Sunday, April 22, 2012.
Fellow geometer and engineer Adam Reed has worked with several others to develop an amazing instrument, the Cymaglyph which produces stunningly beautiful Cymatic imagery (both still and video) which the photos above represent.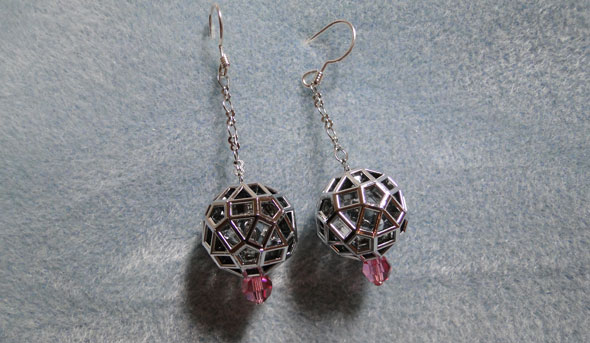 "Chrome Zome" jewelry still available!
Zometool Jewelry — featuring elegant chrome-plated Zome hubs — is STILL available … and ONLY here. Nancy (our resident jeweler) can make these earrings with the bottom (Swarovski 6mm) crystal in a variety of colors in addition to the pink (rose) and jet black varieties shown here, including clear, aqua, blue, light blue, midnight blue, teal, green, purple, amethyst purple, and other colors and variations. Each earring features the unique Zometool hub (12 pentagonal holes, 20 triangular holes and 30 golden rectangle holes) with a metallic chrome finish. Chains and earring hooks will vary with styles. … (read more…)
2) Websites, Books, Videos, Imagery, Music and Quotes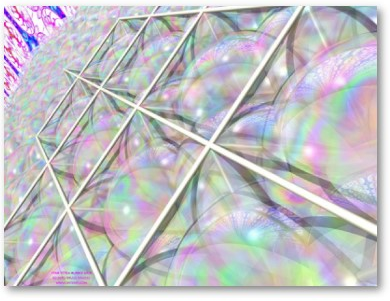 …Here are some sacred geometry designs available as calendars, shirts, posters, note cards and more, such as this Star Tetra Bubble Grid Print.
3) Request for Submissions
If you would like to stay connected and network with kindred souls online, check out my pages on
FaceBook,
YouTube,
Twitter
Pinterest and
LinkedIn.
I'm enjoying connecting with both recent and long-time friends and colleagues and discovering new friends of friends 🙂
As always, please let me know how I can support you. Please send me any interesting items about sacred geometry or related interests … since everything is inter-related!
Thanks for your interest & support! 🙂
BTW, I always appreciate enthusiastic reviews on my Amazon SGDS book page, and it's a good "win-win" way to cross-promote your work as well.