(1) News, Events, Interviews, Workshops, Classes, Exhibits, Products, Articles, Tutorials
Metatron's Cube art by Jarrod Bray
Occasionally I get interesting, unsolicited submissions such as this one by artist Jarrod Bray, who finds artistic inspiration from Metatron's Cube as a starting point. Here's one of the images (slightly retouched to bring out the contrast) he sent me recently.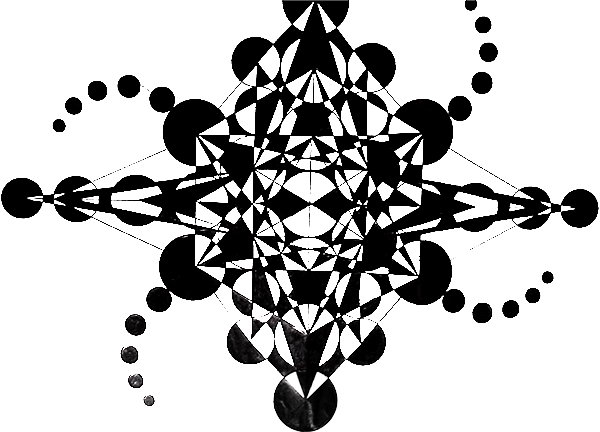 Fibonacci proportions in original Apple Computer logo
Like so many ubiquitous iconic images we take for granted, here's a now-classic example of an everyday symbol (which happens to represent the company whose computing equipment I'm using to craft this bulletin) showing Fibonacci number underpinnings – note the 1, 2, 3, 5, 8 and 13 proportions, Fibonacci spiral and simple geometric archetypes – used in the image construction. Thanks to Nancy for sending this timely (pun intended) image.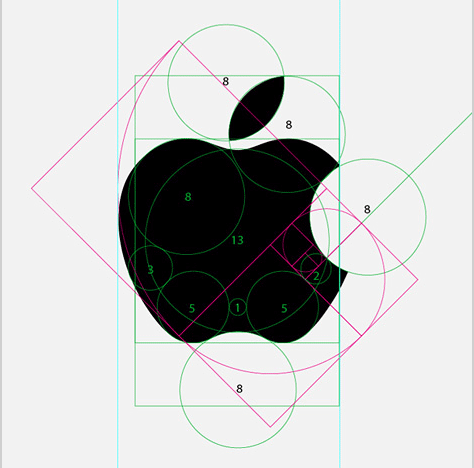 (2) Websites, Books, Videos, Imagery, Music and Quotes
(3) Request for Submissions
If you like to color with colored pencils (or other media), make 3-D fold-up geometric art, do stained glass, quilts, geometric arts and/or crafts, or just want an extensive reference/resource of geometric archetypes, patterns and essential line art, you might enjoy a copy of my first book, Sacred Geometry Design Sourcebook: Universal Dimensional Patterns.
If your leanings are more metaphysical … and perhaps whimsical 🙂 … you might enjoy my second book, The Geometry Code: Universal Symbolic Mirrors of Natural Laws Within Us; Friendly Reminders of Inclusion to Forgive the Dreamer of Separation. It was originally going to have geometry and Hermetic Laws/symbolism as a primary focus, but in 2007, a reawakened interest in the spiritual masterpiece, A Course In Miracles – thanks to Gary Renard – shifted the primary emphasis to an exploration of the two thought fundamental systems we all vacillate between, and how we can gradually shift our mind's identity to the happy one.