(1) News, Events, Interviews, Workshops, Classes, Exhibits, Products, Articles, Tutorials

After 400 years, mathematicians find a new class of solid shapes
This article explores Goldberg polyhedra: quasi-spherical polyhedra-like shapes (familiar to those who have explored geodesic domes, fullerenes, etc.) that add to the existing classes of Platonic, Archimedean and Kepler solids (which include rhombic polyhedra).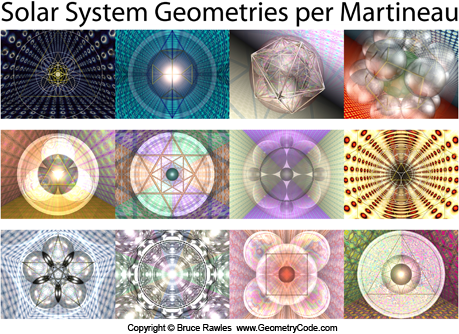 Astronomical Geometry Calendars for 2014
The images above are colorized versions of 12 of the exquisite images in John Martineau's "Little Book of Coincidence", depicting the exquisite planetary mathematics exhibited in the orbital relationships of our solar system's planets from Mercury to Neptune. Martineau's astonishingly accurate 3-D models of our solar system inspired the calendar above, freshly updated for 2014… Here's where you can learn more and order a copy of this astronomically astounding calendar, with the price reduced from last year as well. There's still about 5/6 of the year left. 🙂
(2) Websites, Books, Videos, Imagery, Music and Quotes
Here are a few websites and links of interest to sacred geometry enthusiasts:
(3) Request for Submissions
If you like to color with colored pencils (or other media), make 3-D fold-up geometric art, do stained glass, quilts, geometric arts and/or crafts, or just want an extensive reference/resource of geometric archetypes, patterns and essential line art, you might enjoy a copy of my first book, Sacred Geometry Design Sourcebook: Universal Dimensional Patterns.
If your leanings are more metaphysical … and perhaps whimsical 🙂 … you might enjoy my second book, The Geometry Code: Universal Symbolic Mirrors of Natural Laws Within Us; Friendly Reminders of Inclusion to Forgive the Dreamer of Separation. It was originally going to have geometry and Hermetic Laws/symbolism as a primary focus, but in 2007, a reawakened interest in the spiritual masterpiece, A Course In Miracles – thanks to Gary Renard – shifted the primary emphasis to an exploration of the two thought fundamental systems we all vacillate between, and how we can gradually shift our mind's identity to the happy one.