(1) News, Events, Interviews, Workshops, Classes, Exhibits, Products, Articles, Tutorials

Sacred Geometry Fest – New York City; April 4-13, 2014
The Academy of Sacred Geometry is offering a Sacred Geometry Fest in NY, NY April 4-13, 2014. The list of faculty and presenters includes Scott Olsen, Robert Lawlor (from Australia in a rare presentation), Mark Hanf, Steve Bass, Dorthea Rockburne, Frank Vedegys, Lance Harding Ph.D, John Lloyd and Karl Lorenzen. Also featuring via webinar link up from France, Dan Winter and Bill Donavan. Details here. … I wish I could attend! (I have other commitments.) If anyone who IS planning to attend would like to submit a review of the event, or other details of interest to all of us who study sacred geometry, please contact me. Here is more info about Academy of Sacred Geometry and it's founder, Roger Green.
Metaphysics and sacred geometry interview by David Whitehead
Here is a recent (recorded 30Dec2013) interview of Bruce Rawles by David Whitehead on his Truth Warrior program; we talked about sacred geometry, Hermetic laws, and – of course! – non-dual metaphysics; all topics I enjoy sharing.
Artistic Interpretation of the Science of Cymatics
Geometer colleagues Jeff Volk and Mandara Cromwell, along with dancer Kate Holland will be giving an Artistic Interpretation of the Science of Cymatics Feb. 4 and 5 in San Diego and Santa Monica, California, respectively. Here's an excerpt from their program notes for the event:
"Throughout all the cultures of the world, as far back as history recalls‒sound, song and sacred movement have played pivotal roles in focusing attention and bringing awareness back to the essential nature of our being. Modern science can now show us precisely how this occurs, right down to the biochemical reactions and our corresponding neurological responses. The mechanisms through which this takes place are the underlying principles of resonance and entrainment. The science of Cymatics brings these principles to life, vividly showing how audible sound can animate inert powders, pastes and liquids, into coherent forms that appear like living, breathing organisms‒shedding light on the mysteries of manifestation and allowing us to see this primordial creative force in action!

In this highly engaging program, world-class presenters weave together the arts‒poetry, music, and sacred dance‒with the science of sound, offering a visceral understanding of how our world is composed and of our seminal role in that dynamic, creative process. This is something that must be experienced to be fully understood, yet once we've had this experience, even in a limited way, our way of viewing ourselves‒and our creative potential‒is forever changed."
Quantum physics proves that death is an illusion
Here's a neat, short article that employs quantum physics to challenge the dominance of space and time over mind; author Prof. Robert Lanza suggests that "space and time are simply tools of our mind."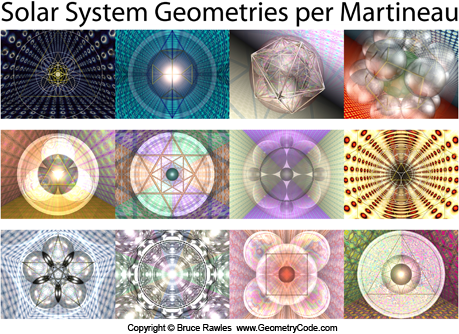 Astronomical Geometry Calendars for 2014
The images above are colorized versions of 12 of the exquisite images in John Martineau's "Little Book of Coincidence", depicting the exquisite planetary mathematics exhibited in the orbital relationships of our solar system's planets from Mercury to Neptune. Martineau's astonishingly accurate 3-D models of our solar system inspired the calendar above, freshly updated for 2014… Here's where you can learn more and order a copy of this astronomically astounding calendar, with the price reduced from last year as well.
(2) Websites, Books, Videos, Imagery, Music and Quotes
Here are a few websites and links of interest to sacred geometry enthusiasts:
(3) Request for Submissions
If you like to color with colored pencils (or other media), make 3-D fold-up geometric art, do stained glass, quilts, geometric arts and/or crafts, or just want an extensive reference/resource of geometric archetypes, patterns and essential line art, you might enjoy a copy of my first book, Sacred Geometry Design Sourcebook: Universal Dimensional Patterns.
If your leanings are more metaphysical … and perhaps whimsical 🙂 … you might enjoy my second book, The Geometry Code: Universal Symbolic Mirrors of Natural Laws Within Us; Friendly Reminders of Inclusion to Forgive the Dreamer of Separation. It was originally going to have geometry and Hermetic Laws/symbolism as a primary focus, but in 2007, a reawakened interest in the spiritual masterpiece, A Course In Miracles – thanks to Gary Renard – shifted the primary emphasis to an exploration of the two thought fundamental systems we all vacillate between, and how we can gradually shift our mind's identity to the happy one.