(1) News, Events, Interviews, Workshops, Classes, Exhibits, Products, Articles, Tutorials
Fun with Zometool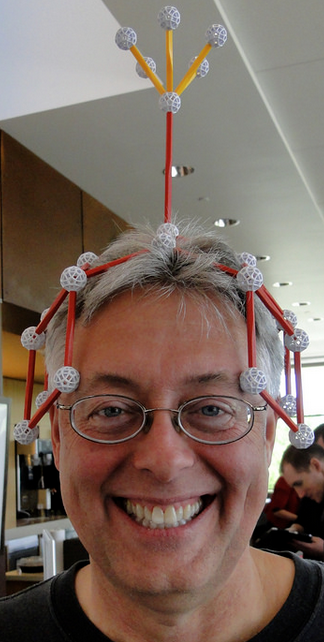 Recently I participated in my wife's staff day – she works for the local library – and I brought my Zometool kit to share. Here's a photo from that fun day (me sporting an impromptu zome hat 🙂 … This has been another ridiculously busy month, so I'll share a bit of what I've been working on, followed by some fun links below that. Enjoy!
New website for University of Colorado Boulder's English Department
We just went live last week with a new website I developed and customized for University of Colorado Boulder's English Department;  here's more detail along with a "before" snapshot of this major site overhaul. While I didn't use a lot of geometric design for this site, I did get to learn and apply a lot of new tools, plugins, and techniques (e.g. responsive design), so if you know of anyone who is looking for a new or overhauled WordPress website, particularly if they need some geometric design elements, logos, etc., please send them my way! 🙂
(2) Websites, Books, Videos, Imagery, Music and Quotes
(3) Request for Submissions
If you like to color with colored pencils (or other media), make 3-D fold-up geometric art, do stained glass, quilts, geometric arts and/or crafts, or just want an extensive reference/resource of geometric archetypes, patterns and essential line art, you might enjoy a copy of my first book, Sacred Geometry Design Sourcebook: Universal Dimensional Patterns.
If your leanings are more metaphysical … and perhaps whimsical 🙂 … you might enjoy my second book, The Geometry Code: Universal Symbolic Mirrors of Natural Laws Within Us; Friendly Reminders of Inclusion to Forgive the Dreamer of Separation. It was originally going to have geometry and Hermetic Laws/symbolism as a primary focus, but in 2007, a reawakened interest in the spiritual masterpiece, A Course In Miracles – thanks to Gary Renard – shifted the primary emphasis to an exploration of the two thought fundamental systems we all vacillate between, and how we can gradually shift our mind's identity to the happy one.