(1) News, Events, Interviews, Workshops, Classes, Exhibits, Products, Articles, Tutorials

Fibonacci Garden: Mathematics in the Plant World – New DVD from Michael Schneider
I just today received "Fibonacci Garden: Mathematics in the Plant World", the latest DVD from Michael S. Schneider, author of the superb book A Beginner's Guide to Constructing the Universe: Mathematical Archetypes of Nature, Art, and Science by Michael Schneider (which I often recommend as a companion to Sacred Geometry Design Sourcebook.) I haven't had time to watch it, but based on his Beginner's Guide to Constructing the Universe book and related DVDs (all excellent), I can already recommend it highly. I'll do a more detailed review in next month's bulletin – make that this month's (December 2014) bulletin, since it just became December while I was typing this. 🙂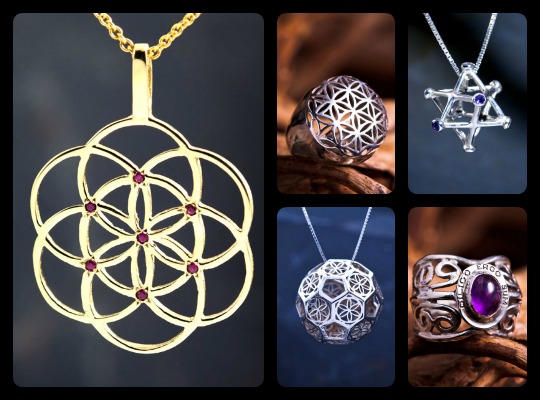 New geometric creations from Ka Gold Jewelry
Artists at Ka Gold Jewelry keep adding exquisite new artistic creations to their prolific line of geometrically inspired, mystical, cosmic jewelry. New items include a vesica-piscis-yin-yang-entangled pendant, star tetrahedra with and without enclosing spheres, Flower of Life, Seed of Life, zodiacal emblems and a truncated icosahedron (i.e. soccer ball shape) with each face a seed of life shape … and much more. Their geometric and design artistry draws from a diversity of cultural traditions and contemporary visionary interpretations. You might want to benefit from their current seasonal 15% discount; use Coupon Code – KAGOLD2014 – valid until December 24, 2014. Here are more photos of recent additions to the Ka Gold Jewelry line.
(2) Websites, Books, Videos, Imagery, Music and Quotes
(3) Request for Submissions
If you like to color with colored pencils (or other media), make 3-D fold-up geometric art, do stained glass, quilts, geometric arts and/or crafts, or just want an extensive reference/resource of geometric archetypes, patterns and essential line art, you might enjoy a copy of my first book, Sacred Geometry Design Sourcebook: Universal Dimensional Patterns.
If your leanings are more metaphysical … and perhaps whimsical 🙂 … you might enjoy my second book, The Geometry Code: Universal Symbolic Mirrors of Natural Laws Within Us; Friendly Reminders of Inclusion to Forgive the Dreamer of Separation. It was originally going to have geometry and Hermetic Laws/symbolism as a primary focus, but in 2007, a reawakened interest in the spiritual masterpiece, A Course In Miracles – thanks to Gary Renard – shifted the primary emphasis to an exploration of the two thought fundamental systems we all vacillate between, and how we can gradually shift our mind's identity to the happy one.