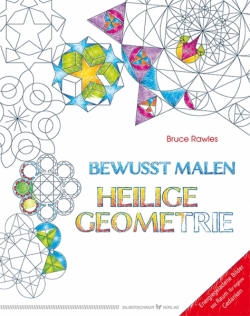 Coloring Book for Adults … now available in a German edition!
A few months ago, I wrote that a new abridged version of the German edition of my first book Mandalas Der Heiligen Geometrie (MDHG) was underway. Mandalas Der Heiligen Geometrie (MDHG) is currently out of print, but I still have a few copies of this German edition of my Sacred Geometry Design Sourcebook (SGDS) available, if anyone in the US would like to buy one, just contact me if you're interested in this collector's item, which contains the original rainbow-colored cardboard fold-up Platonic Solid Mobile designed by the book's translator, Jay Goldner, who graciously donated his time and effort to make the German version over a decade ago.
Now the new (abridged from the original MDHG) sacred geometry coloring book for adults, Bewusst malen – Heilige Geometrie, is available from the original publisher, Silbershnur Verlag. Here is where you can order a copy online. If you know anyone in Germany, please spread the word, thanks! And continued kudos and gratitude to Jay Goldner for his efforts is making these images available again, thanks to his collaborative efforts! 🙂
I have spent countless meditative hours over several decades exploring these fascinating patterns, both with compass and straightedge as classical geometers have done for millennia, and with modern CAD software to make the original Sacred Geometry Design Sourcebook (SGDS) from which this newest incarnation of that source material was derived. I hope you continue to find this practice as inspiring, relaxing, fun and mind-opening as I have over the years.
Use these links below to order the different versions of my adult coloring, reference and other books: