Sacred Geometry bulletin for October 2012:
(1) News, Events, Interviews, Workshops, Classes, Exhibits, Products, Articles, Tutorials
Kindle edition of The Geometry Code now available!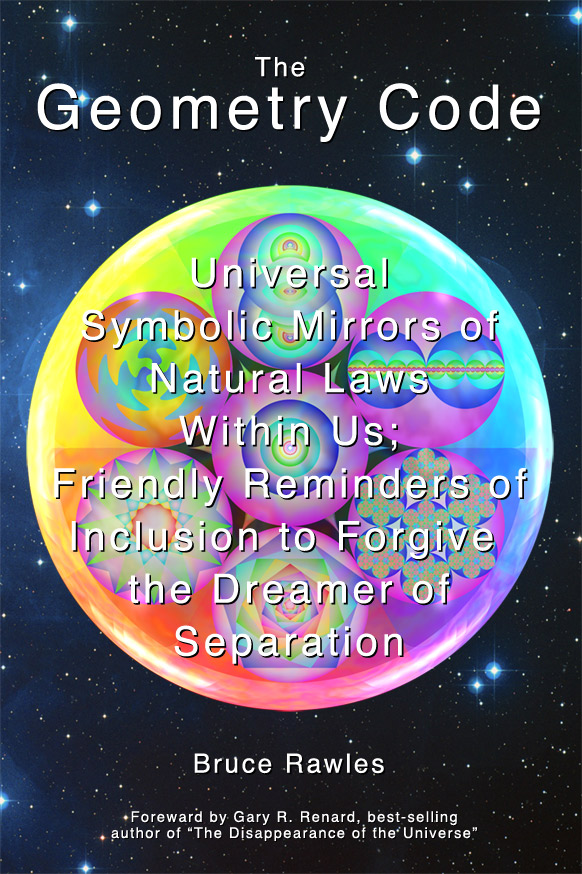 The long-awaited (at least by me 🙂 Kindle version of the book The Geometry Code: Universal Symbolic Mirrors of Natural Laws Within Us; Friendly Reminders of Inclusion to Forgive the Dreamer of Separation is now available. Many thanks to all who have encouraged me to complete it, and all your support … so very appreciated! 🙂 BTW, if you prefer a 'treeware' (paperback) version, you can order it here. Here are abundant details about the book.
Just an FYI, even if you don't have a Kindle, there are lots of other platforms you can read the Kindle version (or any Kindle book) on, including smartphones such as iPhone and iTouch, Android, Windows Phone 7, Blackberry, Windows and Macintosh computers, and tablets like iPad and Android tablet. Enjoy! 🙂
Class: Universal Symbolic Mirrors of Natural Laws: Denver, CO Nov 5, 2012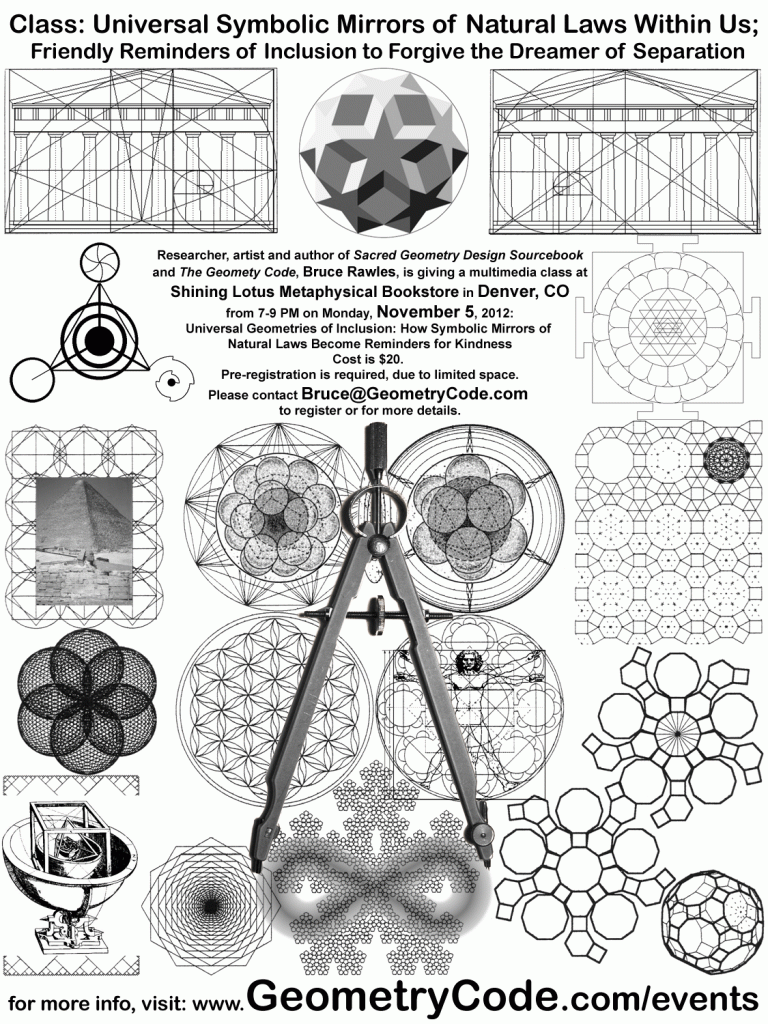 On Monday, Nov. 5, 2012, from 7-9PM (Mountain Time) I'll be giving an evening multimedia class/presentation: "Universal Symbolic Mirrors of Natural Laws Within Us; Friendly Reminders of Inclusion to Forgive the Dreamer of Separation" at Shining Lotus Metaphysical Bookstore, 2178 S. Colorado Blvd., Denver, CO 80222 I will share LOTS of visual multimedia imagery, animation and more, along with plenty of theory on the mystical underpinnings of sacred geometry, the seven ancient Hermetic laws of truth, take-home lessons from modern physics, and how the non-dual metaphysics of inclusion, kindness and forgiving our self-judgments is key to sustainable happiness! 🙂 There will be a book-signing after the class; both of my books, Sacred Geometry Design Sourcebook and The Geometry Code, are available from Shining Lotus Metaphysical Bookstore. Space is limited to 20 participants, so please contact me ASAP if you're interested and want to pre-register.
Zazzle 30% off sale (on all cards) through midnight tonight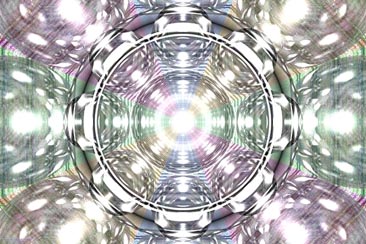 Zazzle.com is having a 30% off sale on ALL cards until midnight tonight (October 8, 2012 11:59pm Pacific Time). Use coupon code 30CARDEVERY1 during checkout. So if you'd like a great deal on greeting cards, including sacred geometric images from the Martineau Solar System series or other sacred geometry themes, now is a fine time!
(2) Websites, Books, Videos, Imagery, Music and Quotes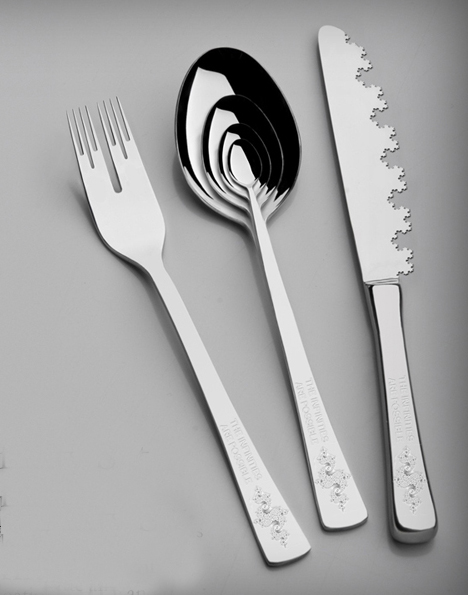 Thanks to András N., who alerted me this
article on "Impractical Fractals? Mathematics-Inspired Silverware Set".
Such shiny self-similar silverware (say that 6 times fast 🙂 is well described within the article:
The Infinity Set includes: "Cantor fork: now you can pin a single kiwi seed. Twice in a row. Recursive spoon: it will never let you spill a drop of soup. Ever. Koch knife: to delicately cut hair-thin slices out of an egg. A raw egg. The Infinity Set: the set includes itself. As a subset."
Speaking of fractals, here's a neat list of fractals (by Hausdorff dimension) from Wikipedia.
… and if you want to play around with fractals interactively, here's a very cool online app by Toby Schachman… Try it out!
Thanks to Jonathan Nathaniel Bean for alerting me to this site!
(3) Request for Submissions
Bruce Rawles
PO Box 192, Castle Rock, Colorado 80104
co-author of
The Geometry Code
screensaver
author of
Sacred Geometry Design Sourcebook
Free monthly email bulletin on sacred geometry and related subjects
Please join me on
Facebook
and
LinkedIn
.
You might also enjoy
my blog
which has lots of other fun and info in addition to these bulletins.