Testimonials for
Sacred Geometry Design Sourcebook
Universal Dimensional Patterns by Bruce Rawles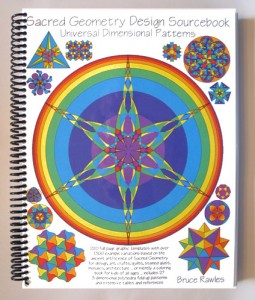 Here is a sampling of the praise others have offered about Sacred Geometry Design Sourcebook:
"A valuable source book of geometric patterning, very useful data, a reminder of the supra human source of such mathematical forms." – Keith Critchlow 1997 (author of Order In Space, Islamic Patterns, and Director of Research for the Prince of Wales's Institute of Architecture
"Bruce's amazing Sacred Geometry Design Sourcebook makes visible the archetypal patterns seen in geometry, nature, art and our dreams. With meticulous detail, this intense and original effort is a fireworks display of the forms which underlie the world's designs. It excites our imagination and helps us to remember the deep rhythms of the cosmic harmony we are part of." – Michael S. Schneider, author of a MARVELOUS book on sacred geometry, A Beginner's Guide to Constructing the Universe – The Mathematical Archetypes of Nature, Art, and Science – A Voyage from 1 to 10
"… a beautiful work full of arresting geometric patterns and figures … (his) care and love of the subject are abundantly obvious." – Eric W. Weisstein, creator and encyclopedist of the vast and ever–growing collection of fascinating data at Wolfram's MathWorld
"The Sacred Geometry Sourcebook by Bruce Rawles is a great book to own for seekers of any age. If you have children in the house, from toddlers on up, this book is an excellent tool to awaken their awareness of Geometry, Color, Space and Design! the Illustrations are beautiful and masterfully done and even those who have studied Geometry or Sacred Geometry for many years should have this Sourcebook as part of their library. I would further suggest that anyone in any Design field, such as Architects, Graphic Designers, Interior and Exterior Designers, Jewelry Designers, Illustrators,etc., would do very well from a professional standpoint to have this Book available for Inspiration, Education and Explanation. I highly recommend it. I also recommend Bruce Rawles as a Teacher of Sacred Geometry." – Andras Nevai; Sedona, Arizona (from a review on Amazon.com)
"I have always been a fan of geometry, Sacred or otherwise. My interest started with Buckminster Fuller's work and continued with my studies in Architecture and Engineering. Several years ago I ordered several books on Sacred Geometry and attended a few workshops. Over the years I have read and studied over 20 books on the subject and found that Bruce's "Design Sourcebook" is the most user friendly source available on this subject. I love the kinetically connected process of hands on learning. Sacred Geometry can be a complex and confusing subject but Bruce has boiled it down to a level that my grandchildren can understand and enjoy. However his work also contains enough solid content to keep a wannabe expert like me engaged. I had the unexpected opportunity to meet Bruce and Nancy on a painting trip to Guatemala a couple of years ago. We met on my first night in Antigua and about half way through dinner realized that I had read and studied his book. We spent the next several days talking about Sacred geometry and how it related to art and architecture. Bruce is articulate and fun to be with, I hope to one day attend one of his workshops and renew our exploration of this intriguing subject." – Jim Shepherd; Elkin, North Carolina (from a review on Amazon.com)
"Bruce's book is a terrific right brain way to learn sacred geometry … I recommend that you get a copy." – Bob Frissell, author
"Wow! We are both very impressed. This is an excellent book for those that attend our classes. There really aren't many good books for introducing Sacred Geometry – most are too technical and tend to scare people off. (SGDS) takes a "fun" approach and allows the reader to go into the technical side at their own pace which is really great." – Steve & Carolyn Fazio, Flower of Life workshop facilitators
"The Sacred Geometry Design Sourcebook is a generous compilation of profound, inspiring and useful images which relate to our spiritual landscape and the inner technology of symbols and Universal principles. Bruce's poetic commentary on the underlying concepts reflects the vast wisdom within the geometry of our world which inspired our ancestors. These are beautifully crafted, accessible images for designers, artists, architects or educators; a marvelous catalog of templates related to the cosmic order. I can see a wide range of people enjoying this abundant and definitive reference." – Michael Strasmich, president, Great Media
"…thanks for your wonderful book, I will enjoy the excursions into the realms of geometry again." – Dan Davidson, author of the Shape Power book
"This book is exactly what I've been searching for; the possibilities as a designer and fine artist are endless. Very excited to receive it… I couldn't be more satisfied with the book. It is a treasury of inspiration. I know it will be one of my most valued sources; just looking through it triggers a flood of ideas and possibilities. I appreciate the design of the book which makes it easy to use, opening flat with very clean graphics and the samples of the endless variations. The clear explanations in the front make this subject understandable." – Sandra, Illinois
"I love your work and it set me free to understand so much, in my work and then in my life." – Matthias, Germany
"We have really enjoyed your sourcebook – as home–schooling goes, this is a GREAT resource …. so, for ninth grade this fall we are going to use it quite a lot." – Nancy, North Carolina
"Bruce – I just wanted to send you a note to express a huge THANK YOU for your fast turnaround on my book order. I received your book today and I am so DELIGHTED with it – to open the pages is to walk into a MAGIC WONDERLAND. I will recommend this book to EVERYONE I KNOW! … Your book is like a treasure chest of delights and THANK YOU for all the attention you pay to the GOLDEN MEAN. … I am very grateful for your choice to share this beautiful work with the world. THANK YOU – THANK YOU" … My kids are also excited about your book; my daughter wants to color all of your pictures and my son wants to make models of them!!" – Nikki, Missouri
"I have had my copy of the Sacred Geometry Design Source Book for several weeks and I find your work to be indescribably incredible! May I thank you for the work and challenges you faced in order to bring this important imagery to those ready to receive. May you be blessed abundantly. Kindest regards." – Ernest, Georgia
"Bruce, Your 'Sacred Geometry Design Sourcebook' is full of great designs and forms. I have already made an octahedron and several pyramid shapes out of stiff silver foil as well as some holographic paper. They send rainbows of light all over my meditation area as they dangle from a string by the window. They're fun to color and incorporate into mandala designs. Such a feeling of unity when one can work with the shapes and see their pattern in nature all around us. Thanks Bruce, for many future hours of fun!" – LeiLani, Oregon
"Thank you, thank you, thank you! (for your Sacred Geometry Design Sourcebook.) I am astounded by both its complexity and simple beauty. … I intend to produce divination tools and art using sacred geometry as both content and inspiration. Your book is a treasure." – B. Deevy, Massachusetts
"Your SACRED GEOMETRY page is wonderfully clear and easy to understand. Thank you ……. a great service." – Iasos
"… ASTONISHING… stunningly revealing … a brilliant tutorial, … it greatly deepened my understanding of geometry." – Bob Zilla, denizen of the internet, after reading an excerpt from the book on the World Wide Web.
"… a masterwork of sacred geometry, revealed and augmented by total immersion and respectful service; totally rad!" – Prof. Ralph H. Abraham, director of Visual Math Institute
"I can't tell you how overwhelmed I was with the information in the book. It is absolutely mind boggling." – Deborah, Oregon
"… very fascinating." – Michael, Washington
"… just received your book yesterday and took it to the study group I belong to. They wouldn't give my book back, so I guess I will order another one! The images you've created are beautiful and inspiring. … Once again thanks for the book and I'll be ordering again soon." – Christopher, Michigan
"Thanks for the book. My seven year old and four year old just love it. The little guy loves all the patterns. The older one likes all the formulas." – Arne, California
"Hi Bruce! Enclosed is … for 10 copies of the Sacred Geometry Design Sourcebook. It is a hit and we are delighted with the vast amount of work you have done to compile it. I'm giving one to my mother–in–law as a Mom's Day present …" – Timothy, Oregon
"The package arrived today and all I can say is wow!!! I have been looking for this info for a long time." – Bonnie, California
"I got the Sourcebook this week and I'm pleased to say it's exactly what I needed! I'm working on an embroidery design using "Golden Rectangle" theory which I've done a lot of research on and learned so much about through Sacred Geometry. The design pages in your book are just perfect for helping me design something of my own." – Pam, Colorado
"Your book is great. What a nice piece of work. I hope you are proud of your efforts here. I want you to know I am looking forward to your next book. This is especially valuable to me because it allows me to mentally capture the patterns in their pure form. Terrific! I know I will be able to get the kids interested as well." – Sherry, Texas
"I've just received your book – WOW: it's Brilliant!" – Amanda, UK
"I got the book and I love it. A wonderful way to introduce the subject of solid and sacred geometry through kinesthetic learning… "When I entered college in 1966 one of my professors insisted that I take solid geometry and I did. Math was never the same after that class and some quality time spent with Bucky Fuller in the early 70's. Your book takes me back in time and allows for the rapid assimilation of some very dynamic concepts." – Jim, North Carolina
"I am quite impressed with both the design and contents of Sacred Geometry Design Sourcebook." – Martin Gray, world traveler, photographer extraordinaire and author of Sacred Earth: Places of Peace and Power … Don't miss any opportunity to see one of Martin's slideshows!
"I read your book until late last night. Your book is simply amazing and inspiring. I love your uncluttered descriptions. You have a minimal use (bare minimum) of culturally charged terms; great! … simple and straight to the point." – Chris L., Australia
"Hello Bruce – I just wanted to tell you how much I appreciate your work … Thanks again for helping me to attract and immerse myself in the kind of projects that I find endlessly fascinating." – Kelly, tattoo artist
"I recently got the SGDS and am having lots of fun with it! It is great!" – Rachel Zuses – Portland, Oregon, artist and author of DivineTemplateCreations.com
"I have a copy of your book which is very cool." – Inna, Slovenia
"I recently purchased your book through online sales … a heart–felt thank–you. For several years I've enjoyed and frequently used your web pages." – Robert Graham, www.bamboocorps.com
"Dear Bruce, I have been enjoying your book for a about a year now. I am a jewelry designer, and use some of the designs like the flower of life in my work." – Deborah McLaughlin, dmfinejewelry.com
"I have your book Sacred Geometry Design Sourcebook … very nice. I particularly like pages 154 and 167. The whole book is good." – Viola, from Holland
"Thank you, I received your book last week. I have gone through it a couple of times. You write well your understanding with a good amount of information and geometry facts, clarity about the sacredness to the order and interrelatedness of all relationships, and of course, most obviously is your love of drawing in exploring geometry and the design possibilities. You have a worthy effort in the work you have done to produce this book." – Bradford Hansen–Smith, author of Wholemovement books and videos about folding circles
"Here in Ubud (Bali) there is a shop which sells sacred geometry things. The owner showed me your book Sacred Geometry Design Sourcebook – Universal Dimensional Patterns. I was instantly intrigued by it. … This led me to search the net for your name and I found your website. I am so delighted I have, as it has enlightened me a little more. Enough to make me realize I need to get back into some maths and get the protractor out!! I'm not quite sure where to start so seeing your book is exciting. … I can't wait to get home to find a protractor and paper and my coloring pencils. With your book I am sure I will quickly learn how to feel the flow of the creation of the shapes. I am looking forward to this immensely. Your designs are beautiful. Thank you. Thanks for your works Bruce. Kind regards." – Fiona, Australia
"I love your book entitled, SACRED GEOMETRY DESIGN SOURCEBOOK." – Lisa P.
"My girlfriend surprised me with your (SGDS) book for my birthday last week…Wow, love it!" – Tim W., Oregon
"[The golden proportion] is a scale of proportions which makes the bad difficult [to produce] and the good easy." – Albert Einstein … OK, this one isn't about my book; I just like the quote :–)
Here is some unsolicited feedback from my Amazon Marketplace customers:
5 out of 5:
"Thank you so much! This book is awesome!"
Date: 2/16/2009
Rated by Buyer: mle_626
5 out of 5:
"Smooth, accurate transaction. Would definitely do business with (this) seller again."
Date: 12/29/2008
Rated by Buyer: allens31
5 out of 5:
"I would definitely go through seller again."
Date: 12/26/2008
Rated by Buyer: KATHLEEN R.
5 out of 5:
"Very prompt delivery!"
Date: 12/6/2008
Rated by Buyer: jrobbins68
5 out of 5:
"quick and good"
Date: 11/3/2008
Rated by Buyer: okkasrainbow
5 out of 5:
"Great Book…Thankyou"
Date: 1/16/2007
Rated by Buyer: nemorn
5 out of 5:
"Prompt and personalized service. Thanks!"
Date: 1/14/2007
Rated by Buyer: ftaylor17 (at)
infoave.net
5 out of 5:
"Excellent service! Thank you!"
Date: 11/20/2006
Rated by Buyer: omeganalpha
5 out of 5:
"This book contains excellent examples and explanations. It is all that I hoped for and more. Delivery was prompt and efficient."
Date: 9/21/2006
Rated by Buyer: Sadhana K.
… and a few more recent (Apr. 2009 – May 2010) rave reviews and kudos from the Amazon feedback page (all 5 out of 5 stars):
Perfect!
Fast, friendly shipping! Very pleased! Thank you!
great
Book arrived incredibly fast. Love the book and the personal signature on opening page. Thanks.
Awesome…
A+ thank you!
Fast! Excellent condition! I will buy from this seller again!
Great book, excellent condition and good price. Will order again. Thanks!
great