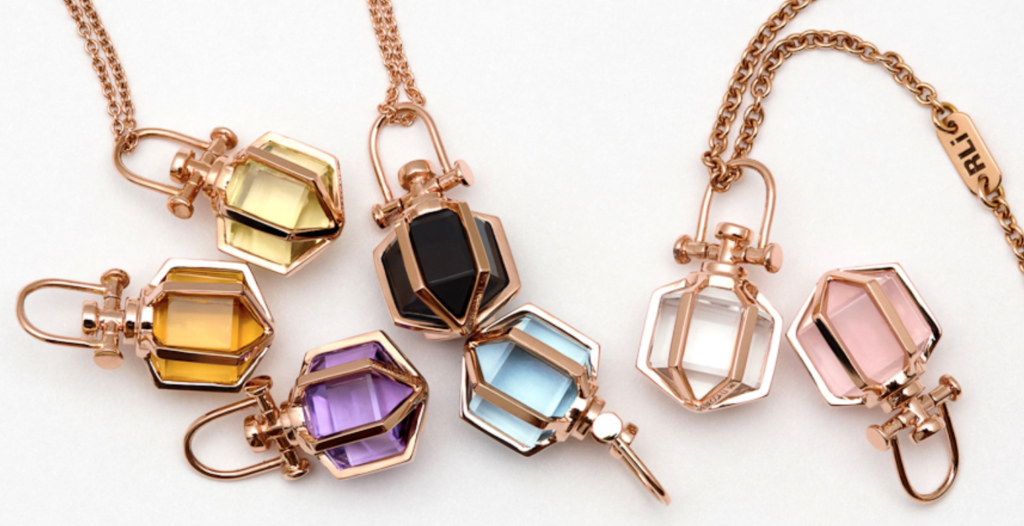 I recently learned about some exquisite jewelry from Rebecca Li; such as her "SIGNATURE SIX SENSES TALISMAN" series:
"My mission is to help us touch Mindfulness, and I do that through objects of modern art–because art is magical; I believe it has the power to take us to the present moment."
… and her additional commentary about what inspired her to make these jewelry gems:
My inspiration for designing Six Senses Talisman Collection:

Why the hexagon?

When I was thinking about designing a piece of pendant talisman, I knew I wanted to use a gemstone as the main element, but I struggled to come up with a unique shape that really resonated with me. Then an interesting thing happened to me. I started to see hexagons everywhere unexpectedly, to the point, I couldn't ignore them anymore. I took it as a sign; I just knew I should use hexagons as my building block in my talisman design.

Why hexagonal crystal points?

This particular shape is the result of one hexagon rotating in space. Imaging a hexagon standing up with one diagonal being the center line, rotating this hexagon 60 degrees six times and connecting those points together then we get this hexagonal crystal point. My message here is six. We say intuition is our sixth sense. I feel like this 3D shape is the perfect interpretation of my message.

Hidden Flower of Life and Seed of Life:

I see the hexagon as the minimalist interpretation of Flower of Life as well as Seed of Life. The hexagon contains those two powerful ancient sacred geometries.
Design elements in her jewelry:
Natural healing gemstones

Solid gold

Sacred Geometry

Modern minimalist style