Sacred Geometry bulletin for January 2012:
1) News, Events, Interviews, Workshops, Classes, Exhibits, Products, Articles, Tutorials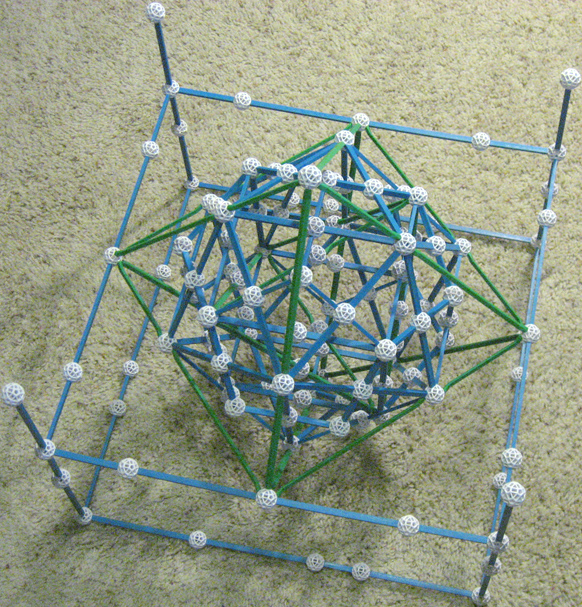 Another example of using Zometool components to make the models in SGDS.
This is another image from the backlog of photos of how Zometool is a great complement to, and ideal model building system for the designs in Sacred Geometry Design Sourcebook. This image is a cutaway – mostly because I ran out of parts for this elaborate model 🙂 static version of this animation of the Nested Platonics Recursion, which is, as far as I know, the tightest packing of a recursive nest of the five Platonic Solids.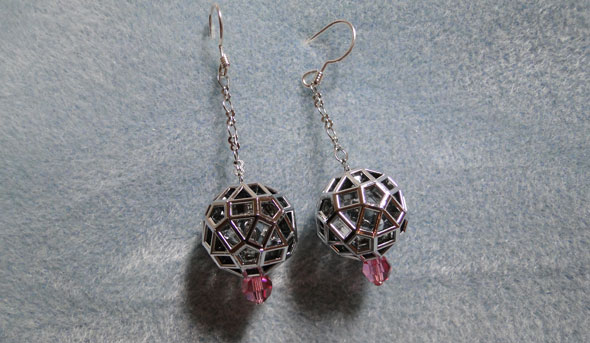 "Chrome Zome" jewelry still available!
Zometool Jewelry — featuring elegant chrome-plated Zome hubs — is STILL available … and ONLY here. A great Valentine's Day gift idea! Nancy (our resident jeweler) can make these earrings with the bottom (Swarovski 6mm) crystal in a variety of colors in addition to the pink (rose) and jet black varieties shown here, including clear, aqua, blue, light blue, midnight blue, teal, green, purple, amethyst purple, and other colors and variations. Each earring features the unique Zometool hub (12 pentagonal holes, 20 triangular holes and 30 golden rectangle holes) with a metallic chrome finish. Chains and earring hooks will vary with styles. … (read more…)
2) Websites, Books, Videos, Imagery, Music and Quotes
Here is a neat video of six rotations of a transparent tesseract. A tesseract (a.k.a. hypercube) is a 4-dimensional cube. I like to imagine that a 4-dimensional object casts a 3-dimensional shadow, just as a 3-dimensional object casts a 2-dimensional shadow. It's still a bit boggling to grok, as our belief system only encompasses 3-dimensional dreams, so stretching our mental hologram to a 4-dimensional is usually met with resistance and confusion; how could we have another experience with such a finite premise! 🙂
Speaking of backlogs, I have a goodly number of cool links to online videos, articles and more; so I ask for your patience, please. I'll have lots more in the February edition. I've caught up on other projects this month. LOTS of great updates in store! 🙂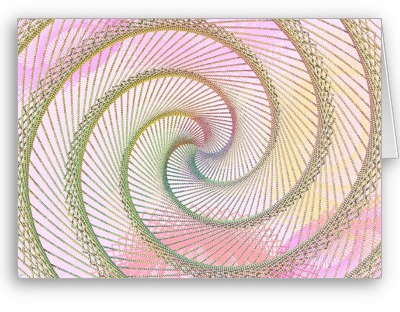 …Here are some other sacred geometry designs available as calendars, shirts, posters, note cards and more, such as these Spiral Beads Cards.
3) Request for Submissions
If you would like to stay connected and network with kindred souls online, check out my pages on
FaceBook,
YouTube,
Twitter
Pinterest and
LinkedIn.
I'm enjoying connecting with both recent and long-time friends and colleagues and discovering new friends of friends 🙂
As always, please let me know how I can support you. Please send me any interesting items about sacred geometry or related interests … since everything is inter-related!
Thanks for your interest & support! 🙂
BTW, I always appreciate enthusiastic reviews on my Amazon SGDS book page, and it's a good "win-win" way to cross-promote your work as well.